INTERVIEW: why the competition isn't keeping Telstra CEO Andy Penn awake at night
Posted on: Thursday, 1st October 2015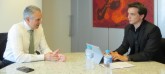 Telstra's competitors may be building scale, but CEO Andy Penn isn't dwelling on his rivals. In his first round of sit-down interviews since taking the post in May, Penn spoke frankly to CommsDay about recent developments in the competitive landscape, his own acquisition strategy, NBN plans, and his aspirations for growth in Asia.
Communications Day: You took the reins in May, so you're coming up to the five-month mark. Where have you been focusing your energies in the first five months?
Andy Penn: The first thing was really about teasing out this aspiration to be a world-class technology company; that's very much the journey that we've been on… our strategy remains unchanged, which is about improving customer advocacy, driving value from the core of our business, and investing for growth. So it's been firstly about getting those settings right, and secondly spending a lot of time with the teams and in the field… with a number of our technical people, and servicing customers from Darwin to Newcastle, Brisbane, the Gold Coast and the Sunshine Coast. And of course it was important we also delivered on our commitments for FY15, and delivered on our [financial] results.
CD: What's your first response to the two big competitor deals we've seen this week: the M2-Vocus merger and the expansion of the TPG-Vodafone alliance?
AP: What I'd say is that we've been very pleased with the performance of our fixed broadband business over the last few years… our revenues were up more than 7% last year and we've continued to grow share in our business. My only comment is that it's perhaps not surprising that some other players have been looking at ways to try and get scale to respond!
CD: There's always been this perception of Optus and Telstra as the big arch-rivals, but TPG has been causing a lot of disruption in the competitive space in the last couple of years… what are your thoughts on the emerging David Teoh empire, and which of your competitors keep you awake at nights?
AP: None of them keep me awake at nights. I think that competition and innovation are fantastic for customers, and fantastic for the market. I don't spend my time dwelling on competitors; I spend my time dwelling on what are the ways in which we can provide better experiences for customers, transform the experience for customers, better service customers? That's where our innovation comes from and, ultimately, that's what will enable us to be successful rather than focusing on what others are doing.
That's not saying that I ignore others… but that's not what drives me.
CD: You've taken over as CEO at a time when competition really is intensifying in both fixed and mobile… we seem to be seeing this shaping up of the industry into a few players, consolidating and gathering strength. Are we heading towards a 'big four' market?
AP: I think the competitive dynamics will look after themselves; what's important to us is that we focus on providing world class customer service… world class technology, which is all about how we continue to innovate; and world class experiences, and we're [providing] that increasingly with Telstra TV, the Apple streaming service, bundling various services together – ultimately all underpinned with a world class network. As you know, I announced an increase in our capex of another half a billion dollars, which will take our total investment in the mobile network to five billion by 2017 – which is all about continuing to provide customers the best network in Australia.
CD: You said at your annual results, as well, that if it was necessary to spend more you'd spend more… to really keep that mobile network superiority going forwards.
AP: But I think, also, it's not just about that. It's about maintaining Telstra as the best network in Australia, but that's important and necessary for customers – because the volume of data is increasing very rapidly as customers leverage the network for a whole range of things.
CD: Mobile tends to be the big headline, but of course you're also improving the fixed network. Do you see more of a chance going forwards to find synergies between your investments in fixed and mobile? It seems like your Wi-Fi network initiative is already blurring those boundaries.
AP: From a customer's perspective, they really just want to be connected to high-speed broadband. Whether it's a mobile network, Wi-Fi or fixed network, I don't think the customers really mind; they just want that experience.
For customers to be able to migrate seamlessly between those networks is really important and, to your point, that's exactly what our Wi-Fi network does. It enables customers to firstly access their fixed broadband allowance away from home, so it extends that value proposition; but then secondly they can do so using their mobile device as well. And we've just launched another service in the home where customers can use their mobile device for taking fixed-line calls. So we are seeing lots of different innovations where we integrate the networks together.
CD: Of course, in this climate of consolidation and gathering strength, the Australian Competition and Consumer Commission is keeping a very close eye on telco acquisitions. But it seems that Telstra's acquisitions have been more focused on verticals you've highlighted as key growth sectors, like e-health and video. Is that likely to be where you'll continue to focus your M&A thoughts, and your investment, going forwards?
AP: I think the opportunity to accelerate growth in those areas and/or acquire new capabilities is really what drives the M&A activities. If I take Pacnet as a good example, it's doubled the scale of our submarine cable network, points of presence and datacentres in the APAC region; it's doubled our customer numbers in the region, so there's a very significant scale opportunity. But as importantly, it's given us a very strategic platform from which to build our network applications and services business in the region.
Domestically, in Australia, NAS is now just under A$2.5 billion, and we achieve almost as much revenue from the services part of our business as we do from the carriage or the network revenue that basically we get from the same cohort of customers; that's just showing how we're able to leverage the core network and add value to that for customers. And that's just going to grow in Asia.
CD: Are there any other particular verticals that you'd like to pursue more closely?
AP: In the machine-to-machine space, which really plays into the Internet of Things… the market's still relatively small, but it's growing very quickly. So transport and logistics plays a very significant role, mining, agriculture… and increasingly, in working with councils. We just signed up with the Brisbane City Council to put in just over 200 Wi-Fi hotspots… which is part of our Wi-Fi initiative, but also part of Brisbane City Council's Smart City initiative, [which] will provide greater opportunities for sensors and other IoT-type devices.
CD: I guess the key question around the IoT is how and where a telco makes money – of course the revenue models are quite different, you're looking at many more connections with much smaller [data] transactions.
AP: You shouldn't look at it as separate from the broader range of network applications and services; to me, it's just part of the overall dynamic. It's about how an organisation uses technology to improve the efficiency of its business, and the value proposition it provides to its customers. And that includes integration of connectivity; for example, we signed a deal with Tesla to provide the SIM connection in all of their Model S cars in Australia. But it's not just the M2M piece; it's actually that integrated with the other aspects of the service. Whether it be the cloud, the infrastructure layer that sits beside it, or any sort of data analytics that go with it… I think telcos can play a role in all of those areas.
CD: Do you think it's time for a change in how telecoms is regulated? We've had the Vertigan and Harper reviews, there's an Australian Communications and Media Authority review underway…
AP: I think, philosophically, creating markets which are self-regulating is a more efficient system. But I also recognise that in certain sectors, such as telecoms, there are reasons why aspects of it have to be regulated. But any move you can make towards reducing aspects of regulation is obviously going to make the system more effective… I have strong points of view on specific decisions, like the interim final access determination [by the ACCC, with a 9.6% cut in regulated fixed access pricing] which is contrary to the fixed asset pricing principles that the ACCC's got in the first place. That one's difficult to understand the logic of.
CD: We are now, though, moving into the brave new NBN world of effective structural separation where you'd hope there'd be less need for regulation, now that you don't have that vertically integrated monopoly…
AP: As I say, a move to a world where businesses are left to market forces and there's a light regulatory touch, I think ultimately means a more efficient system. And as we migrate to an NBN world then Telstra no longer plays the role of being the access provider, and that requirement for regulation goes away.
CD: [On the NBN], are there any specific avenues you'll be pursuing… to make sure that Telstra can win as a reseller on somebody else's network?
AP: I think that's just a function of how we compete in the market; we have been gaining market share in fixed broadband over the last 3-4 years, our market share is just under 50% and our market share in NBN is a bit over 50%. So we are performing at least in line with, if not slightly better than, our existing position in the market. And that's about providing the range of services that I mentioned on fixed-line networks.
I think people just assume that all fixed is the same. And it's not; it's not. There's a lot of difference out there; NBN will only take you to the home, and how you deploy it in the home, how you utilise it, how you connect the home [is important]. Telstra Platinum Service, which is about providing consultancy in the home, is another example of how we can make a big difference to how people experience their connectivity – which is really what matters.
CD: There's a precedent for that type of [NBN home setup service] in places like Hong Kong…
AP: Yes, and in the US… I think that becomes increasingly important, because it's not just providing fast broadband to an area.
As technology has more of an impact on everything we do and becomes increasingly more prevalent in the home, and more and more things become connected in the home with the IoT, how you get the best out of that is going to require a lot of support.
CD: What are your thoughts on the changes in Canberra in the last couple of weeks, and what they mean for the tech sector?
AP: Our vision is to be a world-class technology company… and that was our vision before there was a change in government! Without giving any political comment… the bottom line is that it's great we've got a government that's talking about technology, innovation, incubation and startups. Because those are the things that we've been focused on and active in, and think are very important in terms of making sure we achieve our vision. If you take that to a national level, I think the opportunity for Australia is significant.
Australia is very advanced; it's got one of the highest rates for smartphone penetration in the world. One of the things that we're able to do is provide our customers with a window into what's possible with technology, because we have partnerships with some of the world's largest companies like the Microsofts, Apples, Googles and Ciscos. And they see Australia as a really interesting market, because we're technologically advanced; we co-collaborate, and we're able to influence their product developments agendas to bring great solutions here.
CD: Your passion for Asia as a growth market is very well established; you said when we spoke after you were announced as CEO in February that you'd need to split your time between Asia and Australia. What's on the immediate agenda for Asia? Of course, the Pacnet integration is still working through…
AP: Telstra's been involved in Asia for a long time before I became involved; it's an important part, but it's still only a smaller part of our overall business. I don't want people to get a disproportionate interpretation of how prominently it sits on my agenda. But I think also it does offer opportunity for growth.
You mentioned the Pacnet acquisition, but more important is what we can use the Pacnet acquisition to leverage: starting to provide cloud and managed network and security services into the region will be important. That whole sector is relatively nascent, so there's an opportunity for us to get in early. For example, Pacnet gives us an IPVPN license and datacentre in China, and that's an interesting asset to have; a lot of our Australian customers that are doing business internationally and want to do business in China would like to us to manage their datacentre for them. Likewise, in Indonesia, we've launched our first suite of managed network services there, and we're following up with unified communications. We've got some software-as-a-service offerings as well.
So it's an important growth area for us, but not the only one. I'm also investing in growing the core business and growing adjacencies in Australia, and looking at new areas for growth.
CD: Do you see more or less headroom for growth domestically vs internationally? The [Australian] mobile market… seems to be becoming fairly saturated…
AP: I think if you look at mobile in a conventional or traditional sense, but I don't… every PC in Australia is an opportunity for a connected mobile device, and we talked about the Internet of Things. I think the capacity to broaden the scope of the market, in conjunction with the range of services that people use their devices for… [makes me] an optimist about the outlook for the market!
If you look at it through a conventional lens, you might convince yourself that there isn't [headroom for growth], but I don't look at it through a conventional lens; I look at it through the opportunity that technology provides in the future.
CD: Are you starting to encounter resistance from other large global telcos… the BTs and AT&Ts of the world?
AP: There's always competition. The interesting thing about the enterprise services space, particularly in Asia, is that it's relatively nascent; it's a growing market. So it's less about competing with others, and more about being able to grow with the market. But we're happy to compete with others too.
Petroc Wilton