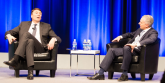 Telstra CEO David Thodey has announced his retirement, after effectively transforming the business and doubling its value to over A$80 billion during almost six years at the helm. To replace him, Telstra's board has tapped current CFO and international group executive Andy Penn, who will take the reins from May this year.
CommsDay group editorial director Petroc Wilton spoke with Thodey about his time in Telstra's top seat, and with Penn to discuss the road ahead.
Communications Day: When you came into the role, Telstra's relations with almost every corner of the market were very different from now – almost adversarial with government and wholesale customers, certainly very different with consumers, and at loggerheads with the NBN project. What were your personal thoughts at the time on transitioning away from the Sol Trujillo legacy and, almost six years on, have you achieved what you'd set out to do?
David Thodey: The short answer is yes. We've achieved a lot, I think, in normalising relationships with the many stakeholders that we work with. And you're right; when I took on the role, there was quite a bit of antagonism in a number of the relationships, maybe because there was a very difficult period of policy development and the Labor government had decided to proceed with the building of an NBN in which Telstra's role was yet to be defined.
So yes, we spent a lot of time trying to understand what was in the best interests of those shareholders, how to work with government and other stakeholders. And I think, over the period, we've built a level of trust and understanding of each others' positions; not to say that we're always in agreement, but at least we can sit down and have a frank and open discussion about the considerations. And that's reflected in nearly all the stakeholders we deal with now, all sides of politics – remembering that the job of the CEO of Telstra is… looking after the interests of shareholders, but within the social and national fabric in which we work.
CD: I guess it's a challenge, when you move towards a more trust-based or more conciliatory role, to not be seen by those shareholders as giving more away. Obviously at this point Telstra's results have vindicated your approach – but was it initially difficult to get support, whether at board or executive level or from shareholders, for your new tactics?
DT: I would not consider it conciliatory, because that was not what we set out to achieve. What we set out to achieve was an open, frank and transparent dialogue, and to build trust. Because that's how you get to the best outcome.
Yes, it does require some compromises along the way, but you try to focus on the big issues. And those, for us, were that we were in a regulated industry where the government had the right to change policy, but our job was to represent the best interests of shareholders. And that's the balance we had to take. It was the combined position of the board and management that we [should think] carefully about these issues – and, very importantly, how we could better serve the customers, and make a difference to them. That helped us in all the negotiations we had to go through.
CD: That's a very convenient segue, because… perhaps the clearest element of your strategy, from a very early point, was that hugely increased focus on the consumer [which at that point] not a lot of the industry was really talking about. What drove that thinking for you in the first place?
DT: As with all things, it's a combination of your experience, where you've worked and what you've seen work. I've always had a very strong conviction, both from my time at IBM and when I ran the mobiles division and then… the enterprise division at Telstra, that if you focus on the customer and serving the customer, that makes the organisation look externally; it creates the right culture; and you create value for your customers.
The question, in a company like Telstra, is can you really do that at scale, and really make a difference; can you surprise, can you deliver good, consistent service? And it needs both cultural change and process change; it needs a whole different way of the system working. We had that strong conviction, we started at the job, and we put many different processes in place – segment by segment and product by product.
And it has created value; we also did a lot of financial modelling on it, to say 'if we were able to do that, what would be the financial implications?' It [wasn't] just an altruistic objective, it was about creating shareholder value – and we're pleased to see that it has made a difference. But we believe it's a fundamental tenet of our strategy for the company.
CD: Something you've emphasised more recently, since perhaps the start of last year, is the importance of embracing innovation – both within Telstra and in the broader economy. Are you confident that initiative will continue within the company – and how do you see Australia, more generally, faring now?
DT: I do strongly believe that innovation is at the heart of good business – and innovation is not just big lightbulb moments, but is in everything you do. How you write a piece in the media, how I write a process, how I create product or serve customers; you can be innovative in everything you do. I believe that human beings are fundamentally creative beings, and if you can tap into that innovation both at a business level, an individual level and a national level, it creates value…. I think it's critically important for all companies, and for a nation like Australia.
I think we've embedded a number of principles in the company around innovation, and we've put a number of processes in place to facilitate [it]. It still has a long way to go, but I think the seeds have been planted and we're starting to get some momentum in that area.
CD: You mentioned that closing the NBN deal – both versions of it – was one of your most significant challenges. With the second iteration of the deal now done… can you share some personal reflections on what that process was like from the inside?
DT: What characterised the NBN deal was its complexity, and the large number of stakeholders that we had to consider through the process. We had to consider the political [elements], the regulatory environment, the role of the Department of Communications and all their responsibilities, our shareholders, the industry, the technology… and NBN Co, a state-owned enterprise. And the Australian Competition and Consumer Commission played a role there, as did the Australian Communications and Media Authority. So trying to pull all that together… and craft a solution that would create value for our shareholders, or at least protect value, as well as meeting all the other stakeholder criteria, was at any one time an incredibly complicated process to go through. [It] resulted in two and a half years of work, and contracts that stood probably a metre high.
There were good moments and bad moments as we went through that; times when we felt we were making progress, and times when we felt there wasn't a solution, that we had to come back and be creative and innovative in finding ways through it. That's what made it so satisfying to complete in the end – but also so challenging.
CD: Andy, you've said that you'll be continuing the strategy that David put in place, and prioritising a smooth transition. That's obviously what you'd expect, especially with a business in very healthy shape, but when might we expect you to start putting your own mark on Telstra?
Andy Penn: As you say, it's what you'd expect because of how the company's performing – but also because I've been very integrally involved with David and the senior team in developing the strategy over the last three years. So my focus is very much on delivering against that strategy; my mark will come through in the execution and the delivery. The great thing is in taking over from David that he's left a wonderful legacy, a wonderful platform for growth. I think we have a very clear path forwards.
CD: You also mentioned a passion for Asia, and that's clearly been identified as a key plank of the Telstra strategy for some time. Now that you're in the top seat, will that accelerate Telstra's progress into Asia or change the way it expands there? What are your key short-term priorities there, in what is a very disparate market?
AP: We've already stepped up significantly our level of engagement in Asia… we've doubled the level of corporate development resources we have in the region, there's the partnership we have with PT Telkom in Indonesia, we announced the acquisition of Pacnet before Christmas. So I don't know if [my appointment] means we'll accelerate from today; we've already accelerated!
I think the opportunities in Asia are very interesting, very exciting because I see a sort of confluence of factors. On the one hand, you continue to have young and rapidly growing populations and economies, with a middle class getting larger. On the other hand, you've got the evolution of technology, leading to more interesting ways of using connected devices and the penetration of smartphones generally… there's more technology available, at a time when more people can afford it. Those two things are just going to accelerate the growth in the region, and I think there's lots of different ways we can participate in that opportunity.
But we're certainly not going to lose sight of the fact that we've got a very significant, successful and important business here in Australia. We have a strong team in Asia as well; I will need to allocate my time accordingly and get the balance right between making sure we continue to grow and focus on the customer here, but also looking for opportunities to grow internationally.
And it's not just Asia, either; we made a number of acquisitions [elsewhere] recently, really looking to where some of the capabilities are that are going to be relevant for us and the industry in the longer term. Such as the investments we've made in intelligent video in America and Europe, and the investments we've made in eHealth… the IP that's relevant to the industry and relevant to our aspirations is globally distributed, and that's where we need to look.
CD: And what are the key challenges, or areas of focus, that you see in the domestic market?
AP: I think there are really two areas. Firstly, our strategic network differentiation is really important; we believe that what customers want is high-quality, fast, accessible network available where they want it to be available. So that's been a core platform of our strategy on the mobile side, and increasingly so on the fixed side; the rollout of the Wi-Fi network is instrumental in that regard. So we'll be continuing to invest very strongly in that level of network differentiation.
The other side: if we think about how customers use the network today, increasingly, it's more than just voice and SMS. They're downloading media, watching content on mobile devices. So the more we can actually bundle and provide the services which customers want to experience on our network with the core network performance, that will be really important as well. Triple play on our fixed broadband service, for example… has been very successful last year.
Petroc Wilton
---