CommsXpress: NBN Co Sees Low Take-Up Numbers In Brunswick
Posted on: Thursday, 4th August 2011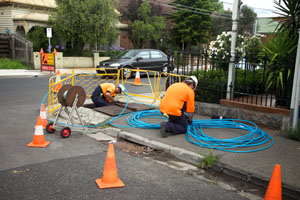 The Melbourne suburb of Brunswick will be one of the first mainland locations in Australia to be connected to the NBN today, but almost half of the area's residents have opted-out of being connected to the new network.
Although the NBN Co has worked in earnest to convince residents and apartment complex owners in the area of the service's value in order to improve take-up rates, it has thus far only received the consent of 52% of the suburb's property owners to install fiberoptic cable on their property.
The NBN Co claims that Brunswick poses an unusual situation, due to having a large immigrant population that either does not understand (or doesn't care) about the service's benefits, as well as the fact that NBN Co must have the consent of both apartment owners as well as those living in each apartment, in order to install fiber directly into the home.
When asked about the low take-up numbers in Brunswick, Communications Minister Stephen Conroy stated that once shareholders approve a historic deal between NBN Co and Telstra in October 2011, Telstra will begin dismantling its copper network in the area. This will result in those (in Brunswick, as elsewhere) refusing to sign an agreement with the NBN Co losing access to their existing phone lines. So, those who only wish to, or can afford to, subscribe to landline based telephone service will have to sign an agreement with NBN Co eventually, anyway. Conroy also added that apartment owners who do not choose to sign access agreements with the company will see their property values suffer as a result.